How to Prepare Rice Water for Hair Growth — A Potent Natural Hair Remedy
What if I told you I did a one-month challenge of using rice water for hair growth? And drum roll please, the results are mind-blowing.
You might be asking my hair is relaxed, can I benefit from this? Yes, all natural hair remedies work for relaxed hair. Forgive me that I talk about natural hair only, that's my niche.
Now, that you know everyone can use these natural remedies, let's look at what this post contains. In this post, you will learn what rice water is, why it matters, a brief history about it, how to prepare rice water for hair growth, the benefits of rice water for hair, and some more. Happy? Read on.
What is rice water?
Rice water is water gotten after rice has been left to soak or boil. It is a starchy liquid, which due to the starch, appears milky. Most natural hair bloggers and vloggers make claims that it makes their hair grow faster, as well as adding shine to their hair. Well, it's not just a claim anymore, when I can attest to this too, right?
Rice water is said to have many of the minerals and vitamins found in rice. Such as B vitamins, amino acids, minerals, vitamin E and antioxidants.
Why does rice water matter, can it help my hair?
Yes, it is perfect for your hair. Permit me to say it could be the best thing to happen to your hair. You may ask what's in it that makes it so? Studies have proved that rice water contains a carbohydrate called inositol, this repairs damaged hair.
An interesting fact to note is that inositol stays in your hair even after you have rinsed off the rice water. Thus, acting as a protective armour, helping to protect your hair from damage. Additionally, the amino acids present in it helps to boost hair volume, strengthen the hair, increase hair elasticity, as well as make your hair smooth and shiny. We all love shiny, right? No one wants dull hair.
Editor's pick: 8 ways to achieve massive hair growth with aloe vera
A brief history of the use of rice water for hair growth
A research was conducted about the ancient Japanese hair care practices, and the Court women during the Heian period. They had floor-length hair ( my God floor length!, I am just looking for waist length). It was said to be a result of combing their hair daily with the rinse water obtained from the washing of rice.
A modern example of the use of rice water for fast hair growth is the Red Yao tribe of the Chinese village called Huangluo. The tribe has been dubbed the land of Rapunzels.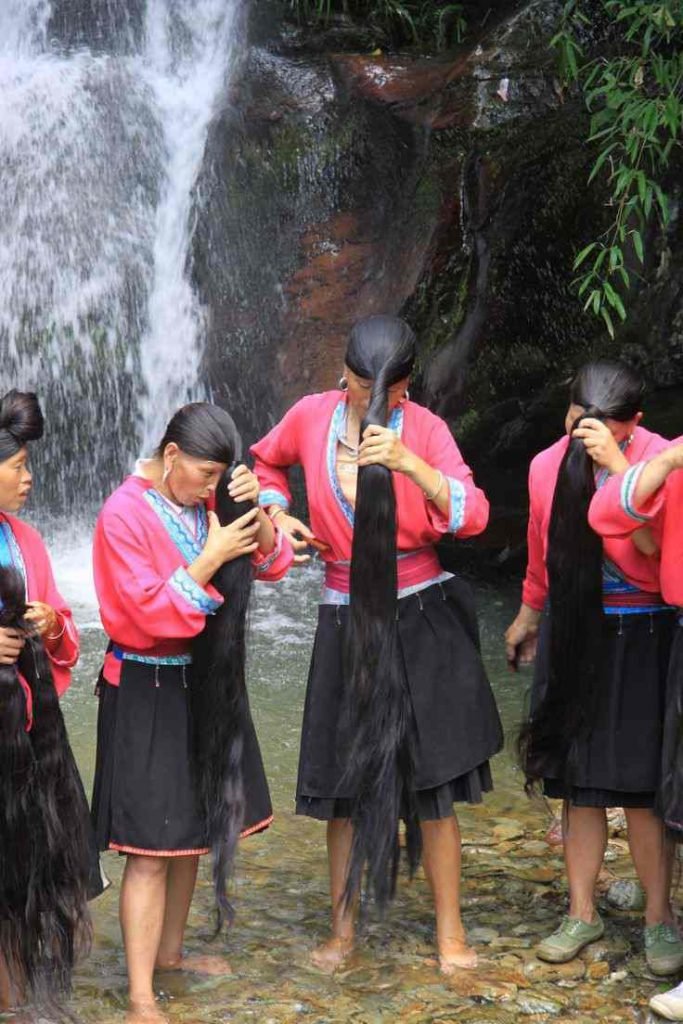 The tribe's women give praise to rice water for their hair length and colour. The village holds a certificate from the Guinness book of world records, as…yea; you guessed right, the world's longest hair village.
Why fermented rice water, and not plain rice water?
When natural hair bloggers or vloggers talk about rice water, they almost always specifically talk about fermented rice water.
Well, let's look at the difference between fermented rice water and plain rice water.
The difference in pH levels
The pH of plain rice water is 6-6.7, which is higher than that of the scalp, which is 5.5.
The pH of fermented rice water is lower and closer to the range of the scalp. And it's able to balance and restore your scalp's pH. Fermentation makes this obtainable.
Enhanced nutrients and vitamins
Plain rice water doesn't have any enhanced nutrients and vitamins.
The process of fermentation enhances the already present vitamins and nutrient levels in plain rice water, which will further promote hair growth and improve the health of your hair.

Additionally, during the process of fermentation, a substance called PITERA — a clear liquid which contains over 50 micronutrients. It's an excellent source of proteins, peptide, carbohydrates, amino acids, and organic acids— is formed in the rice water. Pitera is touted to encourage cell regeneration and thus helps to keep your hair healthy. (didn't find any concrete scientific research on this). Here is what I know, rice water for hair growth is a goal! It is great for your hair!
Read: Mistakes to avoid on your hair journey
Ways to prepare rice water for hair growth
You can prepare rice water in two ways. They are:
Soaking

Boiling
Steps for preparing rice water for hair growth via soaking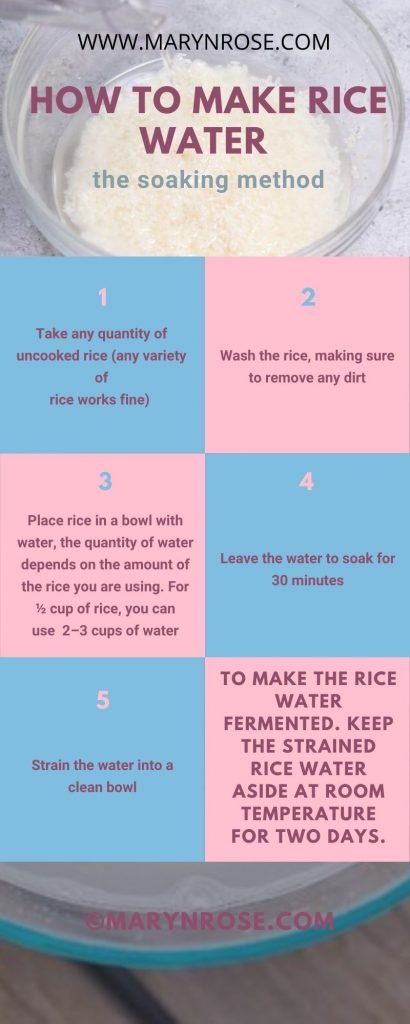 Soaking rice in water is a quick and easy way to make rice water. The steps of this method are:
• Take any quantity of uncooked rice (any variety of rice works fine) depending on the amount you want to make. I don't recommend more than ½ cup of rice
• Wash the rice, making sure to remove any dirt
• Place rice in a bowl with water, the quantity of water depends on the amount of the rice you are using. For ½ cup of rice, you can use 2–3 cups of water.
• Leave the water to soak for 30 minutes
• Strain the water into a clean bowl.
How to prepare rice water for hair growth by Boiling Method
I am in Africa, Nigeria, and you can't be telling someone to soak rice, and strain it, what will happen to the soaked rice? Or you tell someone to take ½ cup of rice and boil, after straining the water what happens to the cooked rice?
So welcome to my modified version.
When boiling rice for the family to eat, I make sure to wash the rice properly, and put in double the water for boiling. When its time to parboil the rice, I strain the water, keep it aside. And continue with cooking the rice as usual.
How to turn plain rice water into the fermented rice water
After following the steps for any of the methods you choose in making your rice water; keep the strained rice water aside at room temperature for two days. It takes a duration of 24 – 48 hours for the water to ferment.You need to know that fermented rice water smells, and you can only be able to store it for up to three days, then it begins to smell like poo. I am serious, been there, done that.
Don't be discouraged; I have a hack. And I will share it with you.I add rosemary oil to my fermented rice water; this completely masks out the smell. Any scented oil can be used too. I just seem to have a thing for rosemary oil. Then, to elongate the shelf life for like a week, I put it in the refrigerator. And always shake before use.
Benefits of rice water for hair
Rice water boosts hair growth
Rice water aids in the regeneration of hair and contributes to faster hair growth.
This benefit is mainly due to the amino acids present.

Furthermore, rice water contains vitamins, such as vitamins B, C, and E, which further helps to increase hair growth.
Rice water reduces split ends
Splits ends refer to the tearing of the hair shaft; it mostly happens to long hair. It occurs when the outermost layer of the hair shaft is damaged.
The primary cause of this damage is inadequate maintenance, which, in turn, leads to an overall degeneration of your hair health. The amino acids in rice water can help repair the damage.
Rice water shields hair from damage
Rice water helps to enhance hair elasticity and reduce surface friction. The inositol present in it, not only repairs damaged hair but protects your hair from damage.
Rice water strengthens the hair roots and smoothens the hair
The amino acids present in the water strengthens your hair roots, adds shine to your hair, and makes it smooth.
Rice water cures dandruff
Using rice water regularly, helps you keep dandruff at bay, and of your scalp.

How to use rice water for hair growth
So I know by now, your mind might be saying enough of all these marvellous benefits about rice water, how do I use it? How do I get all the talked about benefits for my hair? Well, you can use rice water to rinse your hair regularly; it replaces a store-bought conditioner.
Steps to use rice water as a conditioner
• After washing your hair with shampoo
• Rinse it thoroughly with water
• Then pour rice water onto your hair
• Massage it into your hair and scalp
• Leave it on for about 15-30 minutes
• Then you rinse your hair thoroughly
Points to note when using rice water for hair growth
Rice water is a natural remedy, so it doesn't have any side effects. But it has a drying effect. So it's recommended to use it no more than once or twice a week. Also, endeavour to moisturize your hair properly after.
The takeaway
I hope with the above points. I have been able to convince you that rice water (especially the fermented one) is one of the best things to add to your natural hair arsenal. It is a staple in my natural hair journey, and I am enjoying the marvellous benefits of rice water.
Please don't forget to share this post with everyone you know so that they can benefit from it too.
Till next time,
Stay be 'you' tiful. Stay blessed.